Makara: A Novel.
Kristen Ringman.
172 pages.
5.5 x 8.5 trade paperback.
ISBN: 978-0-9798816-4-0
$15.95

Order your copy now
(with FREE shipping)!

(For international orders,
please use this link instead.)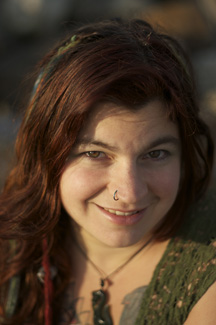 Kristen Ringman has spent time in India, Ireland, and Italy. Makara is her first novel. She lives in New Hampshire.
ANY WATER WAS A WAY HOME ...

What if you grew up with a seal mother and a human father?

Fionnuala is such a daughter: a part-human, part-seal Deaf woman who falls in love with Neela, a Hearing woman in India. While growing up with Neela's family in Tamil Nadu, she struggles with her distant parents living apart in Ireland and Indonesia. Eventually her father brings her to Venice where she becomes a mime artist. What binds them all together is the unstoppable undercurrent of ache running through the sea of their lives.

"In gorgeous, briny prose, Kristen Ringman's novel grabbed my heart and didn't let it go until the last page. Fionnuala is a delightful character who glides easily between the worlds of the sea and land, the deaf and the hearing, grief and joy. Both magical and raw, this story made me happy to be alive." — Lucy Jane Bledsoe, author of The Big Bang Symphony

"Kristen Ringman celebrates the space between human and animal selves with tenderness and precision. 'She reached out and pulled me into her,' she writes. 'Her large seal body below me, human arms around me.' And follow we do, leaning over and shimmering with her on the rooftop above a vista of street life: the ordinary magic of ants, bats, the color yellow, dogs, love, consumption. Do you want to shed your skin and slip into a new sea? This book will show you how." — Bhanu Kapil, author of Schizophrene

Watch Raymond Luczak, the publisher of Handtype Press, talk about why he chose to publish Kristen Ringman's debut novel Makara, which has nabbed a Lambda Literary Award for Debut Fiction nomination.



Ebooks are available for the iPhone, iPad, iPod touch, and Mac as well as the Kindle.